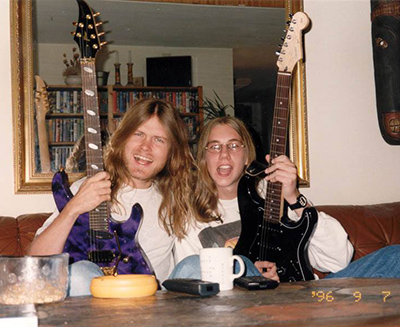 The Appetizer page was founded by me, Patrik Ek.
It was originally called "Patrik Ek's Freak Kitchen Fan-site" and was first launched back in 1996. Since the name was very long I decied to rename the site to the now iconic: The Appetizer Page, that was in 1997. The name is a tribute to the first Freak Kitchen album "Appetizer", released in 1994.
I became a Freak Kitchen fan around the time when the first album was released. The reason I got interested of the band was because of my 11 year older cousin Lars Crook whom is an childhood friend to Mattias IA Eklundh of Freak Kitchen. When IA was forming the band and they recorded their first promo video for the song "See You In Pittsburgh", Lars played that video to me over and over again and was very proud of his childhood friend.
The Appetizer Page had it's peak between 1997 – 2001, around this time building websites was not an easy thing and I my skills was very exklucive. When Freak Kitchen launched their new official website around the same time I sat down with IA and showed him the basic HTML and so on. Fun times and I was very proud to have my idol as a student, LOL.

I am working hard on scanning old photos and making never before seen video of the band from the early days be available here.